TED SUIHKONEN – TAKE CONTROL OF THE GAME AND LEARN THE SKILLS THAT TRANSLATE!
2020.03.11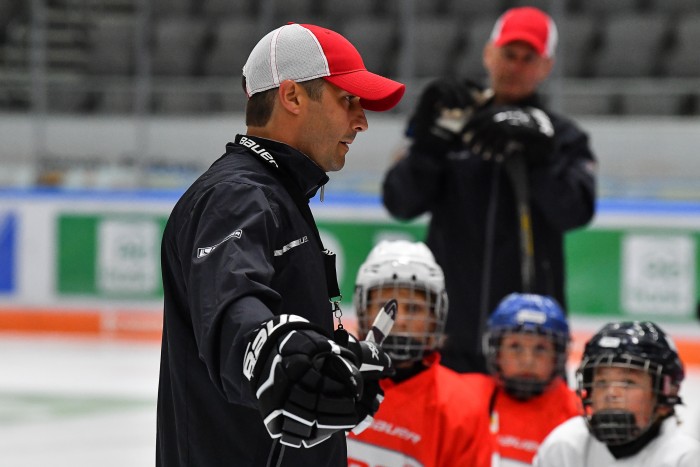 TED SUIHKONEN – TAKE CONTROL OF THE GAME AND LEARN THE SKILLS THAT TRANSLATE!
The camp coach – Ted Suihkonen, KHL skills coach at HC Lokomotiv.
The concepts that SHA Model teaches are related directly to the game.  When players can feel and understand what is being taught, then there aren't any filler exercises (skills that look amazing and wow to the eye), they can then feel and envision using the concepts in their own game.
Ted Suihkonen focuses on building skill sets that are a combination of foundational, individual, and tactical skills.
What we do is build sets of skills using combinations, that will focus on how a player moves independently. There is no forming them into an ideal creation, instead we form them based on their movement patterns, and we enhance them to build the confidence in the player.  By doing this, these skill movements become a little more automatic, and with that, combined with confidence, players can take them into a game scenario right away.
Optimal understanding of one's game is our sole focus so that each player leaves with renewed confidence for the future.
I WANT TO REGISTER AT SUIHKONEN HOCKEY CAMP VILNIUS:
Location: Pramogų arena, Ąžuolyno str. 9, Vilnius
Date: June 1-5, 2020
Levels:
1st GROUP -2006-2008 y.b.
2nd GROUP – 2009-2010 y.b.
Includes: 10 hours of ice time/ 5 hours of stick handling and shooting/ 5 hours of theory
Price: 350 Eur
* Maximum number of players will be 20 per group
Refund Policy:
Enrollment is limited, and registration is on a first come, first serve basis. Because of this, we have a no refund policy.  Partial refunds will only be given up to two weeks prior to the camp start date, minus 25%, if there is a doctor's note present stating a valid reason a participant can not attend the camp. If the notice is after the two weeks timeline, no refund will be given.
REGISTRATION: info@ledoritulioakademija.lt/ +370 687 59950