BESA TSINTSADZE – ONE OF THE BEST HOCKEY SKATING COACHES. OCTOBER IN VILNIUS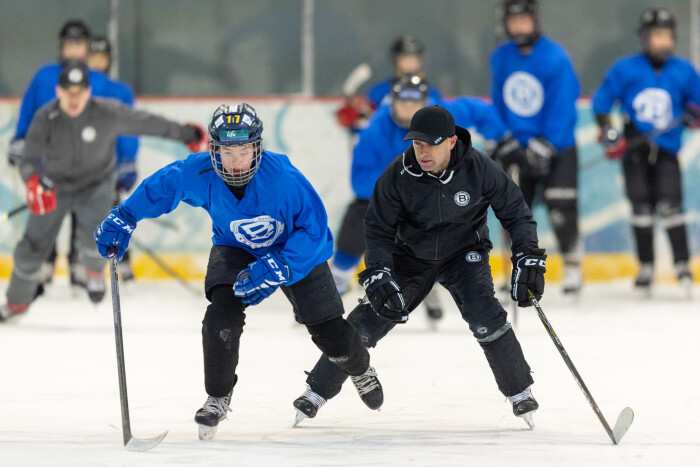 BESA TSINTSADZE – ONE OF THE BEST HOCKEY SKATING COACHES
Besa has personally trained over 4,000 NHL, AHL, Minor Pro,   Major Junior, Junior, High School, and  A-AAA Youth Players   from all over the world during his career as a professional hockey skating coach. A native of Tbilisi, Georgia, Russia, Besa began  skating at the age of five. He had the good fortune of being introduced to hockey and figure skating under the intense and rigorous programs, experiences which helped him to develop into a world class athlete.
2005-2013 Besa was hired to provide team and one on one training for the Pittsburgh Penguins, Boston Bruins and other professional hockey organizations and their affiliated players. Besa has helped to hone the skills of professional hockey players such as Evgeni Malkin (NHL), Sergei Gonchar (NHL), Konstantin Koltsov (Russian Super League), Colby Armstrong (NHL), Andrei Zubarev (KHL) and numerous others. He tailors his work to individual players and teams, working to address weaknesses and turn them into strengths. Besides working with Pro players, Besa prides himself in working with the next generation of hockey players.
B.E.S.A. Hockey Skating System
The B.E.S.A.Hockey Skating System is a seamless combination of philosophies, training methods, drills, technology, staff, and training platforms used to educate players & coaches to enhance skating skills.
The philosophy of this system is rooted in 4 essential skating elements: Balance, Efficiency, Speed and Agility.
At the heart of this system you will also find our 18 Core Hockey Skating Movements used during every single shift at the highest levels in the current, fast paced, aggressive, and extremely skilled game of hockey in the 21st century.
This B.E.S.A. philosophy is implemented and executed through precise repetition of drills, testing, demonstration, and analysis of our 18 Core Skating Movements.
When BALANCE, EFFICIENCY, SPEED, AGILITY are successfully combined, players achieve ultimate mobility at top speed and freedom of movement on-ice.
 I WANT TO REGISTER AT BESA HOCKEY CAMP VILNIUS:
DATES: OCTOBER 30 – NOVEMBER 3, 2023 (5 DAYS)
VENUE: Vilnius Ice Hockey arena, Azuolyno str, 9/ Vilnius
GROUPS:
1ST GROUP – 2007 – 2011 year of birth
2ND GROUP – 2012 – 2015 year of birth
DAILY PROGRAMME/ one group example:
08.00-08.30 REGISTRATION OF PARTICIPANTS
09.00 – 09.50 1ST ICE PRACTICE
09.50 – 10.00 SHORT BREAK
10.00 – 10.30 2ND ICE PRACTICE
10.30 – 12.20 LONG BREAK
12.20 – 13.10 3RD ICE PRACTICE
13.10 – 13.20 SHORT BREAK
13.20 – 13.50  4TH ICE PRACTICE
14.00 END OF THE DAY
COST/ ONE CAMP: 445 EUR 
 REGISTRATION BY MAIL:  info@ledoritulioakademija.lt 
REGISTRATION BY PHONE:  +370 687 59950